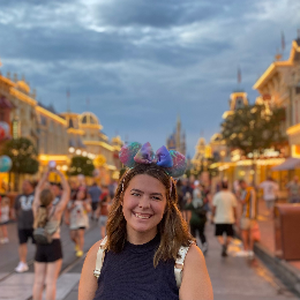 Hello!
My name is Abigail. I am so happy you are here!
"To all who come to this happy place, welcome." - Walt Disney
Hey there! My name is Abigail.  I am currently attending University of Florida pursuing my Masters' degree in Public Relations.  I love creating.  I have been creating content ever since I was a child, from videos with my friends and family to now, creating content for my schoolwork projects.  My current (and my favorite) project is creating content about Disney Parks for my social media class.  I am currently covering all things EPCOT International Festival of the Arts, and I look forward to sharing some content for the return of Happily Ever After and EPCOT Forever, and the Walt Disney World Debut of TRON Lightcycle // Run! 
I was the Public Relations Officer for Coastal Carolina University's Rotaract Club in 2019.  Rotaract is a community service club.  Community service is something that is very important to me and I was privileged to be able to cover just a sliver of our work in the short time I was there before I graduated.

Feel free to take a look at my projects and check out my social media sites below. 
Thanks for stopping by!